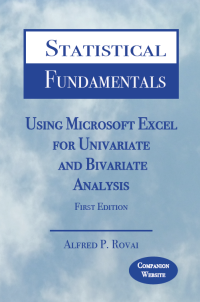 Our latest release is Statistical Fundamentals: Using Microsoft Excel for Univariate and Bivariate Analysis by Alfred P. Rovai, Ph.D.
The purpose of this book is to provide a working background of descriptive and inferential statistics and step-by-step examples of how to perform various statistical procedures using Microsoft Excel's native operators and functions. Automated procedures are also described using Excel's Analysis TookPak and AnalystSoft StatPlus.
This reference volume also features companion website materials including copies of the Excel files used to create the output presented in the book and Microsoft PowerPoint presentations that display step-by-step instructions on how to run popular statistical procedures in Excel.
This 516-page book is offered at the low price of $24.95 for the paperback version and only $9.99 for the Kindle edition.
---
Table of Contents
(PDF File) |
Companion Website Materials
---
About Alfred P. (Fred) Rovai, Ph.D. (This email address is being protected from spambots. You need JavaScript enabled to view it.)
Fred, a native of San Jose, California, received a BA degree (mathematics) from San Jose State University, a MA degree (public administration) from the University of Northern Colorado, and a MS degree (education) and PhD degree (academic leadership) from Old Dominion University. He also completed postgraduate work in systems management at the University of Southern California and possesses a postgraduate professional license in mathematics from the Commonwealth of Virginia. Following his retirement from the U.S. Army as Dean at the Armed Forces Staff College in Norfolk, VA, he served as Visiting Assistant Professor at Old Dominion University and then as Assistant Professor through tenured Professor at Regent University. He retired in December 2011 as Associate Vice President for Academic Affairs. During his career in academe he authored or co-authored six textbooks and more than 50 articles in scholarly journals and served on four editorial review boards. He presently writes, consults, and serves as an adjunct professor teaching research and statistics courses online.



---
Order Statistical Fundamentals: Using Microsoft Excel for Univariate and Bivariate Analysis:
From Barnes and Noble: Paperback


ISBN: 978-0-9911046-0-4 (Paperback)
ISBN: 978-0-9911046-1-1 (Kindle)