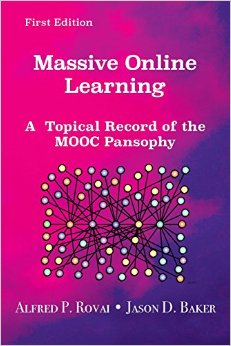 Our seventh release is Massive Online Learning: A Topical Record of the MOOC Pansophy by Alfred P. Rovai, Ph.D. and Jason D. Baker, Ph.D.
Massive Online Learning The purpose of this book is to provide a systematic compilation of information regarding the background, trends, issues, design, implementation, evaluation, monetization, legal issues, and future directions of Massive Open Online Courses (MOOCs). Its goal is to make accessible, in a clear and concise form, a body of current knowledge on MOOCs in order to increase understandings of relevant theories, issues, challenges, and solutions and how MOOCs are changing higher education and the way we learn online. This book is not meant to be an exhaustive treatment of MOOCs, but rather to provide a straightforward perspective.
It is written as a topical record using a business report format that emphasizes effective use of headings and subheadings, plain language, ample use of charts and images, and bullet points to present a series of points in an easy-to-follow list. This format allows readers to cover the presented material efficiently and rapidly. It is direct and helpful in many contexts, such as bringing someone rapidly up-to-date on the MOOC concept, discerning the flow of ideas, and preparing a presentation on specific aspects of the MOOC.
This book imparts a detailed framework of the MOOC universe and inspires further study of this rapidly evolving phenomenon and its impact on higher education. Both producers (exporters) and users (importers) of MOOCs will find the presented information both useful and enlightening. Readers are invited to delve more deeply into the details of this topic to discover the great amount of exciting aspects of the MOOC phenomenon that has the potential to disrupt global higher education.
This book is designed for educational administrators, faculty members, students, and others who have an interest in the topics of online distance education in general and MOOCs in particular. It is especially relevant for higher education administrators, online course designers, instructional designers, and researchers.
This 264-page book is priced at $15.95 for the paperback version and $9.99 for the Kindle edition.
---
TABLE OF CONTENTS
CHAPTER 1: THE DISTANCE LEARNING LANDSCAPE
1.1. HIGHER EDUCATION TRENDS
1.2. GENERATIONS OF DISTANCE LEARNING
1.3. TRADITIONAL ONLINE LEARNING
1.4. LEARNING MANAGEMENT SYSTEMS
CHAPTER 2: RISE OF MOOCS
2.1. MOOC ROOTS
2.2. MOOC FUNDAMENTALS
2.3. MOOC TYPOLOGIES
2.4. MOOC LEARNING ENVIRONMENTS
2.5. MOOC AGGREGATORS
CHAPTER 3: MOOC DESIGNS
3.1. PRODUCING A MOOC
3.2. MOOC DESIGN BY THEORY
3.3. MOOC DESIGN STRATEGY
3.4. MOOC STRUCTURE
3.5. MOOC FLOW
3.6. UNIVERSAL DESIGN FOR LEARNING
CHAPTER 4: MOOC TEACHING METHODS
4.1. MOOC PEDAGOGY
4.2. GLOBAL PEDAGOGY
4.3. PEDAGOGICAL METHODS
4.4. STUDENT-STUDENT INTERACTION
CHAPTER 5: ASSESSMENT OF STUDENT LEARNING
5.1. LEARNING ASSESSMENT
5.2. MOOC ASSESSMENT STRATEGY
5.3. SCORING RUBRICS
5.4. CHECKLISTS
CHAPTER 6: MOOC EVALUATION
6.1. EVALUATION PRINCIPLES
6.2. EVALUATION OF TEACHING
6.3 LEARNING ANALYTICS
CHAPTER 7: QUALITY ASSURANCE
7.1. QUALITY ASSURANCE BACKGROUND
7.2. QUALITY ASSURANCE STRUCTURES AND STANDARDS
7.3. QUALITY FRAMEWORKS FOR ONLINE COURSES
7.4. ACCREDITATION
CHAPTER 8: MOOC LEGAL ISSUES
8.1. COPYRIGHT, FAIR USE, AND PRIVACY
8.2. MOOC PLATFORM PROVIDERS
8.3. USE OF MATERIALS IN A MOOC
CHAPTER 9: MOOC MONETIZATION
9.1. BACKGROUND FINANCIAL ISSUES
9.2. MOOC INSTITUTIONAL BUSINESS MODELS
9.3. MOOC PROVIDER BUSINESS MODELS
CHAPTER 10: MOOCS AS CHANGE AGENTS
10.1. HIGHER EDUCATION IN TRANSITION
10.2. MOOC BENEFITS AND ISSUES
10.3. THE FUTURE
---
About the Authors

About Alfred P. (Fred) Rovai, Ph.D. (This email address is being protected from spambots. You need JavaScript enabled to view it.)
Fred, a native of San Jose, California, received a BA degree (mathematics) from San Jose State University, a MA degree (public administration) from the University of Northern Colorado, and a MS degree (education) and PhD degree (academic leadership) from Old Dominion University. He also completed postgraduate work in systems management at the University of Southern California and possesses a postgraduate professional license in mathematics from the Commonwealth of Virginia. Following his retirement from the U.S. Army as Dean at the Armed Forces Staff College in Norfolk, VA, he served as Visiting Assistant Professor at Old Dominion University and then as Assistant Professor through tenured Professor at Regent University. He retired in December 2011 as Associate Vice President for Academic Affairs. During his career in academe he authored or co-authored six textbooks and more than 50 articles in scholarly journals and served on four editorial review boards. He presently writes, consults, and serves as an adjunct professor teaching research and statistics courses online.


Jason D. Baker, Ph.D. (This email address is being protected from spambots. You need JavaScript enabled to view it.)
Jason is a professor of education at Regent University where he serves as the distance education advisor in a blended EdD program. He earned his BS degree in electrical engineering from Bucknell University, MA degree in education from The George Washington University, and PhD in communication from Regent University. Jason has authored or edited Internet-related books, numerous publications and presentations related to online learning, and currently serves on four editorial review boards for academic journals interested in education and technology. Additionally, he has consulted with various organizations regarding the effective use of educational technology and the development and management of online learning programs. Prior to joining the Regent University faculty, he served as an educational consultant and senior systems engineer at Loyola College in Maryland and associate engineer (communications) at IBM Federal Systems Company.
---
Order Massive Online Learning: A Topical Record of the MOOC Pansophy:
From Barnes and Noble: Paperback


ISBN: 978-0991104697 (Paperback)
ASIN: B00O349FWS (Kindle)