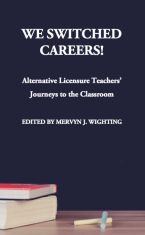 Watertree Press is pleased to announce our eleventh release entitled We Switched Careers! Alternative Licensure Teachers' Journeys to the Classroom edited by Mervyn J. Wighting, Ph.D.
This book comprises the stories of twelve journeys: the road traveled by former business people, members of the military, pastors, engineers and bankers all of whom responded to the calling to become a teacher. Its purpose is to inspire others who might be contemplating a similar journey in order to transition into teaching. Career Switchers are risk takers. In many instances they leave secure and well paid jobs in order to venture into the unknown world of education and they do this so that they can make a difference in the lives of children. They become students themselves to complete the coursework, they compete with all other candidates to get hired, and they subject themselves to the challenges of teaching instead of remaining in the comfort zone of their previous career. Each of the twelve chapters tells a unique story, and the reader can rest assured that everything in each chapter is absolutely true!
---
Praise for We Switched Careers! Alternative Licensure Teachers' Journeys to the Classroom
"Changing one's career to become a teacher can be a life-changing process, and to be able to read the stories of those who have made the change successfully is hugely helpful. Anyone thinking of transitioning into teaching would be well advised to read this book. The stories it contains are powerful, interesting and well-written; they will assist readers to understand that the career change they are contemplating is going to be not only achievable but also very worthwhile!"
- Alfred P. Rovai, Ph.D., Educator and Author


---
About the Editor
Mervyn J. Wighting is a Professor at Regent University in Virginia Beach and has chaired the Career Switcher program since its inception at Regent in 2004.


---
Order We Switched Careers! Alternative Licensure Teachers' Journeys to the Classroom
ISBN-10: 0991104684
ISBN-13: 978-0991104680
---