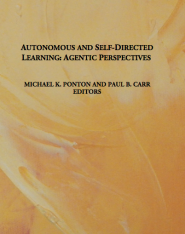 Watertree Press is pleased to announce our tenth release entitled Autonomous and Self-Directed Learning: Agentic Perspectives co-edited by Drs. Michael K. Ponton and Paul B. Carr.
For nearly two decades, Professors Michael K. Ponton and Paul B. Carr have formulated discussions of self-directed and autonomous learning by building upon the conceptual frameworks provided by Professors Emeriti Gary Confessore (learner autonomy and conation) and Albert Bandura (social cognitive theory, human agency, and self-efficacy). Using an agentic perspective of personal agency to describe learning, the agent as a learner engages in forethought to adopt goals of personal value and formulate learning plans; reacts to this ideation by enacting plans; reflects upon consequences and outcomes; and uses this acquired information to inform future learning plans. Their work and that with their colleagues has included both theoretical discussions and original research. This edited compendium, primarily consisting of previously published articles, is the result of those efforts.
---
Praise for Autonomous and Self-Directed Learning: Agentic Perspectives
"Ponton and Carr's work has been a great contribution to the development of conceptual and empirical research in autonomous adult learning for the last 15 years, at the crossroads between sociocognitive theory and mainstream self-directed learning research, a rare but promising avenue. This book is going to be a significant milestone for all those interested in the facilitation of learning in the 21st century."
- Philippe Carré, Professor of Adult Education, Université Paris Ouest Nanterre La Défense


"Mike and Paul are to be congratulated on their insightful work. Anyone interested in the complex issues in self-directed learning and autonomous learning . . . will be rewarded by study of the ideas explored."
- Huey Long, Professor Emeritus, University of Oklahoma


"This thought provoking compilation by Ponton and Carr provides . . . unique, stimulating perspectives of the psychosocial constructs that underscore the learning process. . . . This book fills gaps in the existing literature in terms of foundational structures for substantiating the importance of personal learning empowerment and investment in both informal and teacher directed settings."
- Naomi Boyer, Associate Vice President for Strategic Initiatives, Polk State College
"Ponton, Carr, and associates' . . . evolution of thought represents an excellent example of how a team can create a deeper, more richly defined concept of the field that goes well beyond a simple, one dimensional treatment of self-directed learning and consequently generates even greater thought-provoking ideas for consideration."
- Richard Durr, Motorola University (retired)


---
About the Editors
Michael K. Ponton and Paul B. Carr are professors of education at Regent University, Virginia Beach, Virginia, and recipients of the Gary J. Confessore Award for significant contributions to the advancement of learner autonomy. Prof. Ponton is also a recipient of the Malcolm Knowles Memorial Self-Directed Learning Award for significant lifelong contributions to the field of self-directed learning.


---
Order Autonomous and Self-Directed Learning
ISBN-10: 0991104668
ISBN-13: 978-0991104666
---